About Us
Poole Flying Boats Celebration is a registered charity (No. 1123274) set up to progress and record the epic history of Flying Boats and Seaplanes when based here from 1939, with the arrival of Imperial Airways (IAL), and the onset of the war.
Local Flying Boat history involves the relocation in 1939 of the Imperial Airways Fleet, from Southampton to Poole Harbour, and the subsequent formation and operation of BOAC throughout the war years into the postwar era.
Also, the Seaplanes of Fleet Air Arm as HMS Daedalus II stationed at RNAS Sandbanks from 1940, and in 1942 the formation of RAF Hamworthy.
During the period 1939 – April 1948, when services returned to Southampton, Poole was the UK's Flying Boat Hub for civil aviation with British Overseas Airways Corporation (BOAC) which had been formed on 1st January 1940.
Recovering from WW2, a network of Flying Boat routes extended from Poole and reached across the world – with connections to the continents to usher in a final flourish of this fascinating branch of aeronautics and mode of travel.
Our emphasis is upon Celebration, as we make contact with all those interested in this fascinating subject and look forward to building upon these contacts, developing reciprocal friendships and cooperation.
We seek to relate with others who share in our interests, and to promote understanding amongst the wider public of how significant Flying Boats, Seaplanes etc have been in the story of Flight and Transport in general. To explore the realm of the Flying Boats is to learn more about a Golden Age of Travel, wartime exigencies – with austerity extending post-war well into peacetime, leading to a final hurrah for BOAC's Flying Boats with its Solent Classes; and beyond Poole – the unfulfilled promise of the Princess Flying Boat; and Aquila's last throw of the dice.
Both civil and military Flying Boats 'had their day' – and with something of a memorable swansong. Yet, we at Poole Flying Boats Celebration (PFBC) are determined that they will not be forgotten or overlooked. Their successes were outstanding, their operation and service inspirational. Their story is in many ways an adventure of epic proportions: heroism, courage and an engaging human spirit; a wealth of experience, expertise and a dedication to duty which transcended national boundaries to reach the farthest horizons attainable in their day!
Those left who recall this era readily share their experiences, creating an air of great enthusiasm amongst the authors and archivists, the charities, associations, organisation and FB enthusiasts.
PFBC's celebrations are orientated from Poole, but our links spread ever-outwards as we gather vital information and material which might otherwise be lost forever, or left to fade in some undisturbed corner!
PFBC is growing at a pace, with the formation of a strong Friends group providing support and organising events in tandem with a circuit of PFBC presenters and guest speakers, further ensuring that the subject of Flying Boats/ Seaplanes is enjoyed and appreciated by ever increasing numbers.
Our public-access Archive is a key component in moving the organisation forward, in meeting its charitable remit, and to these ends it covers a mass of information and supporting material.
The Charity is run and supported by a number of PFBC Charity Trustees and volunteers. Our number includes other individuals and organisations that contribute or provide other valuable supporting roles within the organisation.
One of the objectives of the Charity is to locate individuals, Captains/Navigators and others connected with Flying Boat services. To this end, we have created a number of PFBC Honorary Life Members.
We welcome interest from all quarters and we certainly endeavour to respond positively to all enquiries so please feel free to contact us.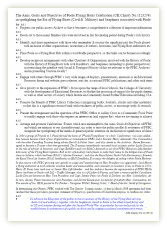 Further information is available in the form of a five-page PDF (download here) or in a series of online pages:
This information contains significant information giving details of Projects & Presentations together with 30 areas of PFBC Research… and lots about how PFBC was set up and all the folk involved past (RIP) and present!
It covers many questions that are asked!