Memories: Phil Hosey FRAeS
Flying Boats as a way of life?
I was born and brought up in the Hythe and Calshot area so perhaps it is little surprise that I showed an interest in all things aviation and especially Flying Boats from an early age. However, I was not out of step with many boys at my age given the fact that we had witnessed the end of World War 2 and in particular the sight and sound of aircraft every day of our lives. We were in a word, airminded!
I joined the Air Training Corps (ATC) around the middle of 1952 before I was 13. To this day I believe that the official age for joining was indeed 13 but in 1308 Squadron ATC I certainly was slightly underage. The fact that my father was a close friend and WW2 colleague of the Flight's CO may have had a bearing. Who knows?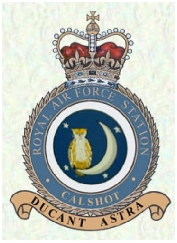 The Squadron was divided into three flights, one at Hythe, one at Lymington I recall, and mine at RAF Calshot. At Calshot, our Headquarters was a converted wooden billet in which we drilled, learned about weapons and RAF history and most important to the actual boys, aircraft recognition.
Not long after I joined I heard talk of something called a "flying pass" and on investigating found it was a very precious and sparingly awarded document signed by the CO permitting cadets to enter what was known as "lower camp" i.e. where the hangers, workshops and AIRCRAFT were to be found. There, given fair weather, a serviceable aircraft and amenable captain we were tolerated into the air.
By the early 1950's Calshot was home to 235 Operational Conversion Unit, and which in October 1953 became the Flying Boat Training Squadron. Not only were RAF crews taught some of the strange customs and shenanigans involved in operating large flying boats, several other nations operating the Sunderland at that time, for example, New Zealand, also used Calshot for this baptism into a new world of flying. Thus when we, as tender 13 and 14-year-old cadets were flying we, found ourselves at times in aircraft with crews of mixed nations but also mixed ownerships.
It is rather important at this point to remind us that I had never flown in anything but a Sunderland and had no knowledge of life at a flying station other than Calshot. I accepted what I saw as the norm. It was only much later that I realised that mechanics, boat crews and aircrew were somewhere between airmen and sailors in both mind and attire. White roll neck pullovers were common and hats were a variety of berets, peaked caps and forage caps. Weather resistance wear could have been a stout leather waistcoat, long oilskin coats reminiscent of that traditionally worn by lifeboat crews and duffle coats. In addition, airmen involved in maintenance wore uninflated lifejackets and a strange looking cummerbund which turned out to be the home of a small number of hand tools, each attached to the belt by a short length of cord. The distinction between their RAF heritage and nautical normality was at times difficult to spot.
I flew many times in Sunderlands over the next 2 year or so but very sadly no longer retain my ATC logbooks with the details. The best way perhaps that I can convey my experience is to bring together a series of details of a few the many flights, which, because of their significance at the time have remained with me.
The first is the overall feel of a large Flying Boat. From the outside, they present a solid wall with portholes and a blunt nose and tail. They were almost always rather grubby looking bearing in mind the very light Coastal Command standard colour which was badly affected by the less than pristine water of The Solent. However worst of all was the liberal application of lanolin to almost everything, which did not move, and some things, which actually did. This was an effort to delay the inevitable onset of salt-water corrosion. As one writer once put it, "salt water dines on aluminium"…
Having managed to get from the Marine Craft (i.e. a boat) into the main door without falling in, we found ourselves in a very deep, dark and impressive hull whose lower keel was well below the water line. We were then more or less left to our own devices to explore provided this did not extend to the flight deck or nose compartment where two Aircrew wrestled with winch cables and ropes. The galley, rest area or the actual bomb bay were our normal points of abode. No bombs of course but the sliding racks glowered down on us from above.
After a short time an engine would start and I think these were PW 1830's, thereafter, the aircraft began a gentle but inane pirouette of the mooring buoy until balanced by all engines starting. Noise now became a factor and loud blasts from a horn would signify "Slip" to release the mooring cable and various refinements of the blast to signify take-off and landing. The problems of testing mags, props and power that were so easy on a landplane become almost ballet like when carried in in a free spirited flying boat rocking vigorously in a 15-knot wind. All this was happening of course with us cadets peering through salt encrusted portholes often seemingly attempting to become submariners.
Eventually with a High Speed Launch (HSL) in attendance we would take off and the world changed for the better and became something none of us forgot. Being a training unit, this water cavorting followed by many landings and take-offs became very familiar to us, and by the way, I never saw safety belts in the compartments we used for these flights. I can't think how we survived with Elfin Safety still 40 years away in the future.
On one occasion, we carried out an ILS type approach to RAF Tangmere down to what is now known as Minimum Descent Altitude (MDA). It seemed pretty low to me and the number of white upturned faces on the ground told their own story. Perhaps a few had visions of much lanolin encrusted aluminium particles down the centre line of the runway!
Practice instrument approaches onto the open sea are quite difficult I understand!
On another occasion, huge excitement ran right through the aircraft while we were airborne in SZ575 a Mk GR V. It was a fine sunny day when one of the crew called from above and told us to look out of the starboard windows. There below us, just lifting off from the Solent was the first of three Saunders Roe Princess flying boats. This particular aircraft (the only one to ever fly) climbed slowly up from below 'til it was at our level and we continued in a very loose (½ mile or so) spacing for five minutes or so.
On one other eternally important occasion which was, from my point of view, even more important was when the captain (who I think was a F/Lt Comber) ushered me into the F/O's seat and for some minutes – which seemed longer – I was flying the beast. Both the captain and I realised something about the same time, I was too short to see over the instrument panel and perhaps almost as important, to reach the rudder pedals. Notwithstanding there was a nod of approbation from the F/O when I slightly corrected a wing drop using the very large artificial horizon in front of me. The fact that I knew what its use was came from my reading to many aeroplane adventure stories I suppose.
A final memory with slightly less glory attached to it occurred on the 31st January 1953. I had applied for and been granted a flying pass and made my way to Calshot. I found the crew in what I suppose was the Ops room and taken to draw my Mae West (I was still too young to know why they were so aptly named).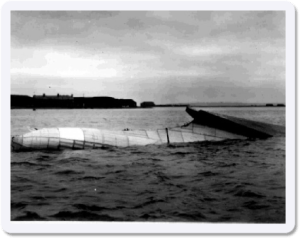 On arriving with the crew at the small Calshot jetty there on the slip was the inverted remains of Aquila Airways' converted Sunderland G-AGKY Hungerford (a Hythe Class) which had suffered a wing drop on take-off, lost a float as a result and rolled quietly on its back. Thankfully, none of the 31 passengers and crew was lost. I gazed for a moment at the wreckage then without another thought climbed aboard with the crew.
Start up and take-off was behind us and a landing back at Calshot took place without mishap however, on the second take-off our pilot allowed the wing to drop in the gusty wind and as I watched, one float hit the water very smartly then arced backwards no longer supported by two struts but only one. The rather slim float's tapered aft end then concluded its arc by penetrating the port aileron. After a short pause in what seemed like a deathly silence, the Flight Engineer called down and invited me to climb out on top of the wing with him. It seemed like a nice gesture at the time but what he really wanted me to be was human ballast. The crew had by this time initiated "Standard Broken Float Drill" which involved running a line out to the tip of the undamaged wing and inducing human ballast i.e. any one without a crew duty, out past the idling 1830's to the wing tip at the same time avoiding the oily patches and holding the line in the January wind.
Within minutes the pilot had turned the aircraft cross wind so that it helped to hold up the damaged wing. Perhaps something the hapless crew of G-AGKY Hungerford did not have time to do. Then a launch arrived with more conventional ballast in the form of sand bags and it was all over. On arrival back at the jetty, I had a second look, a little longer this time, at the wreckage and reflected on Flying Boats as a way of life.
Phil Hosey FRAeS
I only suspect that had something happened like this today to a 13 year old it would have made at least the front page of the Sun as well as "Full and Searching Enquiry" to establish the facts and prevent it ever happening again!