Memories: Eric Le Jeune
How and why we moved to the UK in 1941
Hitler attacked simultaneously Holland, Belgium, Luxembourg and France on Friday,10th May 1940, and war broke out in earnest in Western Europe.  In blissful ignorance of the impending disaster, the Belgian High Command had that day authorized leave for the armed forces for the long Whitsun week-end.
I was 5 ½ and my sister Annette 3 years old; our Parents, Albert & Sità Le Jeune-Errera, both fourth generation Belgians, had separately spent the First World War in England as refugees from the 1914 German invasion.
Mindful of the exactions of the First World War by the Germans, there was a massive exodus, wholly unprepared, of the country's population – first to the Belgian coast when it was optimistically thought that the invader would be halted on the Meuse.  We had no car at the time, but were taken that very first day in my grandfather's Packard with Sità and Miss Moore, our English nanny, to De Panne at the coast to await events.  
Seeing the deteriorating situation, Sità bought a "cuisse-tax" 4-seater beach pedal-cycle in De Panne with the desperate idea of cycling on such a hopeless contraption – with nanny and two small children – to the south of France.  
Luckily, Jacques Pirenne, a Brussels University professor, was passing by in his motor car (carrying, I believe, a consignment of Heavy Water) and took pity of us; he brought us via Abbevile, Sees and Chateau du Loir to Tours on the Loire River on 20th May;  whence we were able to take a train to Libourne (near Bordeaux).  My only recollection of that trip is sitting uncomfortably on a big metal chest (of Heavy Water?) in the car; and afterwards the vast throng on Tours station platform all jostling to get a place on the train, and somehow me being pushed onto the railway line.  Fortunately Annette and I were 'in harness' and I was hoisted up safely as the train steamed in.
Meanwhile Albert had been busy evacuating the Le Jeune Office in Antwerp with his brother Charles and cousin Jean Pecher whilst his elder brother Alick, an officer in the Belgian army returned to his post.  Three lorries of uncertain value were hurriedly found to convey all the office files, and those employees and their families who wished to leave for Bordeaux, the planned destination of all Belgians who had activities in the Belgian Congo.  The caravan finally set off from Antwerp four days after the invasion, amidst indescribable chaos on the roads, with Stuka dive bombers and rumors of German parachutist spies dressed as nuns, at every turn.  
After a brief stop-over in Ostend – by which time the caravan had swollen to five vehicles, 24 employees, their families and hangers-on, numerous bicycles, plus 3 drivers – the party lumbered off along the coast via Nieuport (16th May) in the direction of the French frontier.  
Charles had already disappeared ahead in his red van with his wife and dog to Bordeaux.
Travelling through occupied France
The frontier was finally crossed at Roesbrugge on 18th May after much toing and froing and delays on secondary roads, with the broken-down Chevrolet lorry towed by the furniture removal van. As the Chevrolet contained half the office files, the breakdown was keenly felt and an unsuccessful attempt was made to have it repaired at Dunkirk on 19th May.

From that moment on, everything went badly.  The caravan was dislocated and families were separated at Hazebrouck and Lillers in the growing confusion. They were aiming for Abbeville, unknowingly already cut off by Guderian's 2nd Panzer division.

A group of cyclists led by Albert went off from Etaples on 21st May at 4am to reconnoiter the situation at the bridge at St Valery and discovered that the Panzers had got there before them, and roads were blocked with allied troops streaming northwards. Albert suggested wading across the Somme at low tide, but this was vigorously rejected by the others. Betty Pecher, who said she couldn't swim, was dog tired and had had enough so back they went, North, along the road teeming with troops and civilians and their vehicles in desperate flight. That day they had cycled 100 kms.

Another group led by the resourceful Octave Magnel aimed to reach the Somme with the lorry by the back roads, as all movement on the main roads was impossible.  On approaching the small hamlet of Lepine on the main Montreuil-Abbeville highway, Magnel decided to reconnoiter on foot. He was flabbergasted to discover two German motor cyclists with side-car and radio transmission unconcernedly communicating with their unit the route of hundreds of allied troops and civilians on the main road only 50 metres away!  This at midday on 21st May, 35km north of Abbeville.  A hasty retreat was deemed prudent.

The two groups were reunited that evening, meeting by a miracle in a traffic jam, and decided to camp for the night in the open some 7 kms south of Etaples. Two days later, the Le Jeune company staff and lorries ended up in the pleasant seaside resort of Hardelot with no further inclination to move.  There they remained in an abandoned villa in glorious weather under Jean Pecher until well after the Dunkirk.
evacuation; after which they returned home to Antwerp for the rest of the war.

Albert must have realized, fortunately, that there was no future in remaining with the caravan if he wanted to see his family again, for he left Cucq alone on the evening of 21st May, cyling to Etaples from where he took a fishing boat on 22nd May to Wissant, a small fishing village between Boulogne and Calais – and much closer to England.  He stayed for two days until he found a small sailing boat with three young Frenchmen who were also keen to set-off for England.  During their perilous crossing, several German planes passed over them, but each time Albert and his three companions dived under their boat to give the impression that it was abandoned. They picked up a crate of oranges and papers from a ship that had been sunk.  Finally, in mid-Channel, they hailed and were picked-up by a British Destroyer, HMS Greyhound, and taken to Dover.

It took some time for Albert to clear his position with the authorities in England and find a boat to take him back to France.   He went to Southampton, left for Jersey, and finally arrived at St Malo.  There he bought a bicycle and cycled via Rennes, Nantes, La Roche s/Yon, La Rochelle, Rochefort, Saintes, Ponse, Blaye, to Libourne where he hoped to find us.  Meanwhile, we had moved with Sità to Château Jean Faure supposedly for 'the duration'; no big deal as there was no running water at the time, only a well!  So on 18th June we left for Bordeaux – to a flat belonging to a Mme Soubiran – to prepare for a move to Spain.  The following day Bordeaux was bombed heavily.

I don't know how Albert found us, but anyway he arrived at the flat at 1am of the morning we were to leave for Spain with Uncle Charles.  He had cycled for five days non-stop to get to Bordeaux. 
A right royal arrival in Spain, on to Portugal and then into Poole
So we all left together on the afternoon of 22nd June in Charles' small red van and headed through endless pine forests for Hendaye, the French frontier town where we spent the night.  The following morning, 23rd June, there were queues of cars for miles, waiting to be allowed to cross the border into Spain.  The situation appeared hopeless until suddenly Uncle Charles spied a liveried chauffeur from a Rolls Royce who seemed to be at a loss.  "Can I help you?", enquired Uncle Charles.  "I'm looking for the passport office to have
xxxx
s passports stamped to get into Spain".  "No problem" (or words to that effect), said Uncle Charles with his usual aplomb, "I'll get it done for you", and he took all the passports  – 
including ours!
 – to be stamped; and so we sailed into Spain as part of a Royal retinue behind the Rolls in our little red van, leaving the endless queue behind.  I can only remember that my finger got caught in a slamming car door whilst crossing the bridge at Irun into Spain in haste, and it hurt!
We stayed in San Sebastian for several weeks waiting for visas for Portugal.  The beaches there were a joy for us children as it was a glorious summer.  However there hung a pall from the Spanish Civil War which had only recently ended, and one could see many injured soldiers in the streets; and Nazi jackboots were never far away.  I seem to recall watching a parade of visiting German soldiers from our hotel window, with Albert telling me to keep out of sight.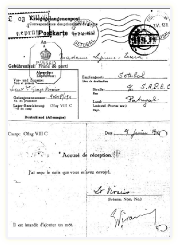 Finally our visas arrived and we left for Lisbon by night train.  I remember seeing the crenellated walls of a lovely city shining in the morning sun, but where?   On arrival we stayed at Parede, a small seaside village near Lisbon, where I went to my first school, the Colégio da Bafureira, just next door to our Pensao Atlantida.

We stayed until the beginning of 1941 whilst Albert liaised with Uncle Charles who in the meantime had moved to Leopoldville in the Belgian Congo to run the family insurance business there.

Sità sent food parcels to Belgian prisoners of war in Germany, and continued this until mid-1942, via Suzanne Orth who was in Lisbon throughout the war.  Portugal was a neutral country during the war, and
was an important communication hub to channel news from and to occupied Europe; it was also a hotbed for spies of both sides.

We left Lisbon by 
BOAC Empire C-Class Flying Boat G-AFCT Champion 
for Poole, England on 14th January 1941.  It was a six-hour journey with a wide detour via the Irish Sea to avoid being shot down by the enemy fighters that now controlled France.

We arrived at Poole Harbour in pitch darkness, and Annette made the memorable statement before the customs officers "Oooh, isn't England beautiful".   Somewhat surprising, considering we had just left a city of brilliant lights, and were now in total wartime Blackout, but it must have pleased the Customs.

We soon moved to Kenya House, a guest house on Boars Hill, near Oxford and went to Miss Skerry's kindergarten.  I had a Dutch Torpedo bicycle with no breaks other than by back-pedalling. Needless to say I ended up in a nettle bed when unable to stop.

Albert used to cycle into Oxford and take the train to London where he had a small office at 101 Leadenhall Street, close to Lloyds, where he placed Congo Marine Insurance risks cabled to him by Uncle Charles, through Gardner, Mountain & d'Ambrumenil.   He often stayed in London during the week as an Air Raid Warden, and had a "siren suit" like Winston Churchill's.  He would take a book to read on the Central Line underground in the evenings to keep warm.  Heavy winter fogs were quite frequent – and welcome, as they kept the German bombers away.

We once went to Burford in the Cotswolds for a short holiday and slept in a belfry; all of a sudden in the middle of the night, the air raid warning went off IN the belfry, and there were dozens of rats/mice and bats milling around our beds.  Not sure who was the most scared…. The village had a campaign to "Dig for Victory"; also to build a Spitfire by public subscription – £30.00 at the time, I think.
Sources :
1. Sita's manuscript list of dates and places from 10th May to 24th June 1940 found after she had passed away.
2. Jean Pecher's account of May 1940, "Ch. Le Jeune Limited – en campagne – ou La Tragique Histoire des P'tits Camions "
3. El Diario Vasco 18-23/06/1940 in the San Sebastian Public Library
4. My personal recollections
5. Alistair Horne, "To lose a Battle, France 1940" for the map and historical confirmation of the dash to the sea by German armoured columns 19-20th May.