Memories: Reaching Harbour Heights with the Flying Boats of Poole
The pilot of a Catalina Flying Boat, which was one of the dozen stationed at RAF Hamworthy in World War 2, recounted his story of arriving back & alighting safely at Poole Harbour after an exhausting Bay of Biscay Patrol.
He told of the transfer of his aircrew by a small dinghy to the base at Lake, and a quick unpacking session before the journey to Salterns Pier by RAF Launch for a debriefing at 210 Squadron's HQs in the ex-Poole Harbour Club.Then clambering on an old bone-shaker of a bicycle which had been issued to him, to make his way to the Mess, but having to endure a bumpy, arduous ride up Lilliput Hill & Bingham Avenue, etc. towards Harbour Heights Hotel. Next a 'welcome' wash & brush-up at his Quarters in the neighbouring Harbour Court, with a change of uniform, to join fellow officers enjoying the meal served by BOAC Stewards, who had been recruited from pre-war Liners.
The year was 1943, and although 'Harbour Heights' had been requisitioned by the RAF it was shared with BOAC.
RAF Hamworthy had been established the previous year to receive the newly-formed RAAF 461 Anzac Squadron with the famous Sunderland Flying Boats of Coastal Command, but where most facilities in Poole were 'ad hoc' !
These Australians complained that BOAC largely based in Poole and the Fleet Air Arm station of RNAS Sandbanks (housed at the RMYC to serve as a Seaplane Training School), already had a pick of requisitioned sites & runways. BOAC with unarmed Flying Boats for carrying Passengers and the FAA had been operating from Poole since 1940.
For the Australians the high-spot of their tour here was undoubtedly the "_ARBOUR _EIGHTS _OTEL", which bore this name after the three 'Hs' had been removed as a prank as it was later alleged by the incoming 210 Squadron.
The magnificent Empire C-Class Flying Boats of Imperial Airways had been moved to Poole at the outbreak of war and had been subsumed 'in readiness' for April 1940 by the newly-created British Overseas Airways Corporation. Along with BOAC Whitchurch near Bristol which had become in wartime the UK hub for their Civil Air Landplanes, Poole could claim to be the birthplace of BOAC and also for the new term Airport describing that Marine Terminal. Both these UK hubs were connected to BOAC HQs in Victoria by a mixture of special trains, BOAC coaches & taxis.
At first, VIP Passengers were catered for at the Haven Hotel (in the phoney war) for flights taking-off before dawn heading out to Australia & NZ, but later restricted to Eire & Portugal (both neutral), West Africa + Transatlantic Ops.
When the Mediterranean closed with the fall of France and the entry of Italy into the war joining the Axis powers half of BOAC's Flying Boat fleet transferred to operate from Durban on the Horseshoe Route via Egypt to India etc., with the older of the Empire C-Class, which left the longer-range Empire Classes and other types for BOAC Poole.
Images enlarge when clicked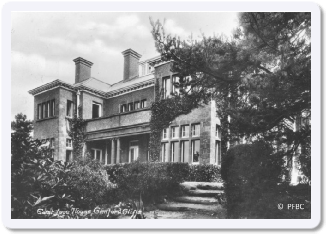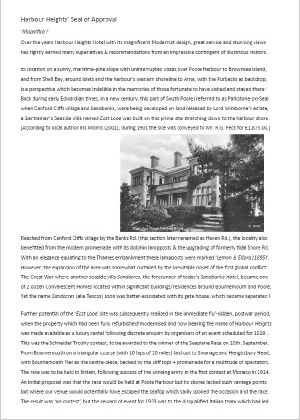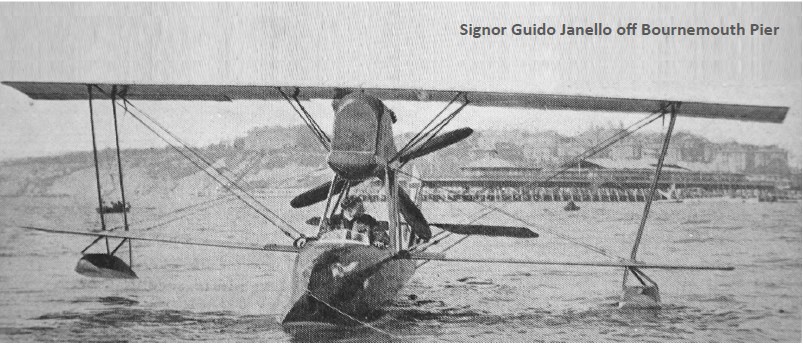 However, Harbour Heights had received its first set of VIP guests by way of the organisers: the Race Committee whose senior figures H.E. Perrin, S.E. Saunders, Major Mayo, Alec Ogilvie & Frank McClean stayed there, alongside the Italian team members including Savoia's Srs. R. Confleti (designer) and Lawrence Santani (constructor), with their star pilot Guido Janello bringing his S.13 from Cowes to the Lilliput shore for practice in the Harbour.
The reputation of Harbour Heights was set, so that after the Depression further development was undertaken…
"Between Haven Road and Chaddesley Glen, on the hillside overlooking Poole Harbour, is a brave and enterprising group of 'early modern buildings', the Harbour Heights estate of 1935-36 by A.J. Seal & Partners of Bournemouth (Jasper Selway did much of the designing). It consists of the Harbour Heights Hotel, two blocks of flats The Haven and Conning Tower, and two rows of single storey, flat-roofed terrace houses (Haven Close)… These buildings are admirably sited, with prominent glazed staircase curves (derived from Mendelsohn); but the detailing everywhere degenerates into what Betjamen calls the Tel-Aviv style!
The nearby peninsula of Sandbanks has fourteen other examples of 'early modern' most of them no doubt by Seal."
(ref: Pevsner, N. et al… updated 1985)
With the intervention of another world war, and the requisitioning of Harbour Heights and Harbour Court in WW2 to provide an RAF Officers' Mess + VIP Passengers' overnight accommodation, with the Officers' Quarters next door, a new era of hotel visitors, BOAC Flying Boat passengers & seaside holidaymakers eventually followed in peacetime !
The popularity of Harbour Heights Hotel encouraged subsequent owners to expand the number of floors and rooms; garnish more restaurants and extra facilities; and significant expansion of opportunities under the present Maestros.
Aimée ~ Poole Flying Boats Celebration's Trustee i/c Projects
With acknowledgement to Bertie Bowman, Alwyn Ladell, John Liddell, Iris Morris, Nikolaus Pevsner and Jeremy Waters